For those of you that read our journal and are of the female persuasion... check this out. (Guys, feel free to skip over this- It's Girly stuff)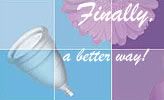 Get More Info on the Divacup
I got mine 2 months ago and think it's the best kept secret that I should proclaim to the world! REALLY, I LOVE IT!!
If you think of ordering...get them from here http://rhythmandbluespads.com/divacup.htm You get a free gift with order and it's the same price as through the Diva Cup website. ALSO...free shipping.
Email me if you have any questions. I'm now a huge advocate!